Your purchase is protected by a 7 Day Money-Back Guarantee
Stay safe and enjoy your Samgyupsal at Home with your family! No need to go outside to satisfy your cravings!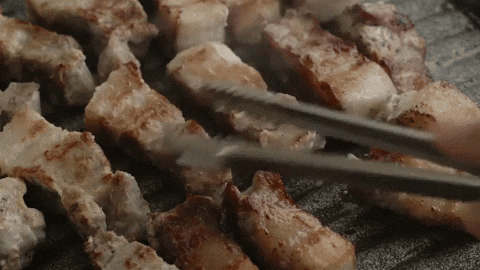 Use this grill anytime and as much as you want -- No more hassle of going through heavy traffic or falling in line to get a seat at your favorite Korean restaurant. Now you can enjoy unlimited Samgyeopsal and Shabu-Shabu at home.

High Quality & Multi-Functional
This 2-in-1 Electric Hotpot Grill lets you cook in a hot pot and grill at the same time – perfect for steaks, barbecues, kebabs, grilled vegetables, grilled seafood, noodles, soups and stews.
Convenient Cleaning
Aside from having a removable oil dripper, its non-stick feature also lets you do cleaning with relative ease.
Switches and Temperature
The switch of the electric grill and the hot pot enable users to adjust temperatures according to preferences.
Powerful Heating
The 1360-watt, high-power, and high-quality heat pipe uniformly heats up as fast as 10 seconds and lets you enjoy tastier dishes and more time for personal use.
CLEANING INSTRUCTIONS
When you are done using the item, simply unplug and let it cool.
Pull out the connector from the item before cleaning.
Clean the surface and the pot using wet cloth or wash it with a clean sponge and mild dish soap. Just avoid the socket when cleaning the item.
Wipe using dry cloth. Once dried, store it in a safe place.
SPECIFICATIONS
Material: High-Quality Aluminum Alloy
Color: Black
Voltage : 220V - 50HZ
Power: 1360W
Product Size (L x W x H) : 21cm x 50cm x 8cm
Package Includes: 1 x Advance Barbecue and Hot Pot Grill, 1 x Pot Lid, 1 x Power Cord, 1 x User Manual
Package excludes: outlet adapter
IMPORTANT NOTES
It is prohibited to keep it heating for a long period of time when not using it as it would greatly shorten the service life of the product.
When preparing the electric grill for the first use, it is normal that it might release smoke with a peculiar smell.
Please do not use any sharp metal tools when roasting meat as it may damage the surface of the electric grill;
Please do not put stuff that is easy to melt i.e. rubber and plastic on the electric grill when heating;
Please turn the heat regulator to a minimum after operating the electric grill and pull out the plug;
Please do not touch the electric grill when it's heating;
Before moving or cleaning this product, please make sure the oven has cooled down and to pull out the heat regulator slowly;
Please make sure the plug is out and that the heat regulator does not get wet when the product is being cleaned or when not in use;
Never cook with an electric grill close to coal or fuel such as gasoline;
Please prevent the power cable from touching the surface of the instrument at high temperature in order to avoid the insulating layer being damaged and electric leakage
✈️ ESTIMATED DELIVERY TIME:
Metro Manila: 3-5 days

Provincial: 7-10 days
Our Promise:
Door to Door delivery (pay us upon receiving the item)
Nationwide Delivery!
Damaged item? No worries, we refund or replace your item. Give us the damaged photos within 7 days, send back to us the item and we will refund or replace your item!